In the world of small HDB remodels, kitchens are always a hot topic. They are the heart of the home and, perhaps more than any other room, it's crucial to have space-efficient, smart design here. But how do you maximise kitchen storage space in a place like Singapore where every square metre is precious? Here are a few insider secrets to maximising storage and efficiency in small HDB kitchen designs.
How to Get Started with Small Kitchen Design
You will read plenty of opinions about using light colours vs dark colours in a small kitchen, along with debates on whether you should use open shelving vs closet cabinets. As you start planning your small kitchen design though, it's important to remember that all these pieces of design inspiration are just examples of what works for some people's spaces.
The best way to get started with a kitchen remodel is to look at the fundamental guidelines for kitchen design in small spaces. There are only a few best practices for each design style, and then from there, you can make it your own. And don't skip that step of personalisation!
Customisation is the single most important element of a small kitchen remodel. We often see clients who have been inspired by posts on kitchen cabinet design for small kitchens but haven't actually considered how the style might look in their place. It is crucial to consider your lifestyle as well as the unique features of your space before you start.
Personalised Kitchen Design for Small Spaces
When you're remodelling a small flat, always look toward cohesive styles. The smaller your space is, the more important it is that each room flows into the other. This is particularly true in the case of open floor plans. Creating a stark distinction between your kitchen and living room, for example, will draw attention to the size of each space.
If you have an industrial design in your living room, it just doesn't make sense to go with a colourful maximalist kitchen design. Plan your design with an eye on carefully combining interior design styles.
That said, you are not stuck with one design style that you must incorporate into every element in every room. Mixing and matching design styles throughout your home is a wonderful idea, as long as you always work to create an effortless flow between the styles and spaces. That cohesive interior design will create the illusion of a bigger, more expensive space.
Choosing the Right Kitchen for Your Life
Above all else, don't forget about the real purpose of your kitchen! Your kitchen needs to be functional and easy to use. Fortunately, creating a small simple kitchen design is easier than you might think.
Small kitchens lend themselves well to productivity. With the right design elements in place, you can create a productive, comfortable space. To make your kitchen work for you, the real key is to look at your lifestyle.
Do you love baking and find yourself pulling out your collection of cookbooks and small appliances every weekend? Or are you more of a takeaway and ready-meal kind of family? Be realistic about how you use your kitchen and plan for it.
Essentials of Your Small Kitchen Remodel
Pay attention to your routine during the week. Is it important to have a dedicated space for a much-loved and much-used gourmet coffee maker? Do you want to have plenty of room for dinner guests? Make a list of the most important uses for your space.
As you plan, remember that there are no set rules on how your kitchen needs to be. If you want to prioritise your living room or dining room, a practical galley kitchen might be right for you. If you love cooking and hosting dinner parties, you might consider an open kitchen plan that expands out into a dining room.
There are countless options for making the most of a small kitchen. Having a realistic plan for how you want to use the space will guide you at every point of the decision-making process.
Smart Kitchen Cabinet Design for Small Kitchens
Kitchen cabinet design for small kitchens is always a hot topic. In a small HDB flat in Singapore, it is crucial to be strategic. The choices that you make in a small space kitchen cabinet design can make or break your space.

It is all too easy to get lost in interior design trends or fall in love with a certain style. We often talk to people who have dug through all the small kitchen design ideas for 2023 and fallen in love with the latest and greatest design idea. While it can be a significant thing to incorporate trends, they have to work with your life.
Storage Solutions in Small Kitchens
When you live in a small space, storage is always an issue. Even the most minimalistic person can struggle with the tiny flats we've got in the heart of Singapore! That's why smart storage is the key to creating a beautiful and functional space.
One major small kitchen design trend that we've seen a lot of in recent years is open shelving. This can be a gorgeous element of design, but it's also one of the hardest interior design trends to pull off. If your storage space is limited, open shelves tend to be an invitation to clutter.
While open shelving can be used strategically to display feature pieces and highlight unique design elements, hidden floor-to-ceiling shelving is one of the best things that you can do for any small space.
Use Built-Ins to Create a Wide Open Space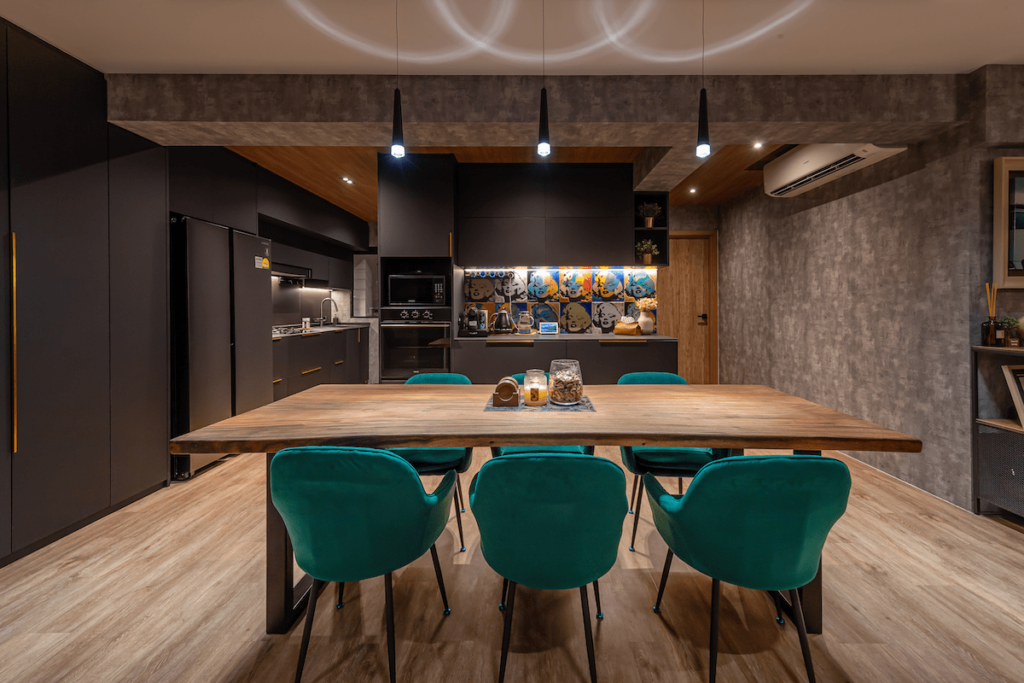 Want to make a small space look bigger? Banish clutter! When you are looking to make the most of every square metre, it's essential to find storage anywhere that you can. Adding built-in cabinets and cupboards gives you floor-to-ceiling shelving without sacrificing any precious floor space.
And we're not just talking about small simple kitchen designs that are limited to one corner of your home. To truly maximise a small kitchen, you've got to get creative. To get inspired, take a look at the wide open spaces of the New York loft industrial design renovation in this Northshore Drive property.
Create a Limitless Flow
Notice how the kitchen in the North Shore Drive property doesn't have a well-defined starting and stopping point. Rather than drawing a line on the floor and saying that kitchen storage is limited to a narrow corner of the flat, the living spaces seamlessly flow together. Instead of going from one tiny room to the next, you feel like you're in one big wide-open area.
In this HDB flat, the kitchen storage continues out into the dining room space. Now there is floor-to-ceiling storage that just disappears into the background. The same cabinets continue into the bedroom for an uninterrupted flow. If you peek inside the wardrobe cabinets, you'll see just how much fits behind each and every one of these doors.
Experiment with Darks Colours
While people often have the misconception that you absolutely must avoid dark colours in a small space, it is actually one of those rules that are meant to be broken. In the case of this Northshore Drive property, the dark colour scheme creates an elegant, moody atmosphere. While the place is jam-packed with storage, all the cabinets blend into the background.
Using dark colours in kitchen design for small spaces is a much-loved strategy. By pushing the kitchen storage elements into the background, you create the kind of refined space that you might see in a presidential suite with a kitchenette.
Another incredible but often underutilised technique is incorporating luxury materials. When you're planning kitchen design for small spaces, you don't need all that many materials. That means that even the smallest splurge can go a long way. While adding premium fixtures to an enormous kitchen may cost a small fortune, even the most decadent of accents and the finest of materials are affordable in a tiny kitchen.
Premium Upgrades in a Small Kitchen
For example, look at the sleek aesthetic of this Cluster House Kitchen remodel. This narrow galley kitchen feels elegant and sleek with bold charcoal cabinets, rich wood accents, and chic golden hardware. There is ample storage and wide open workspaces even in this small kitchen.
Rather than keeping the kitchen bright and airy, they decided to go bold and dramatic. Even down to the wine fridge, this well-appointed space is pure elegance.
Create a Bright Airy Kitchen
Prefer a light and bright space? Look at the highly usable and adaptable home at Northshore 413B. The gallery kitchen is minimalistic and bright to make the most of the narrow galley kitchen space. A perfect kitchen design for small spaces, this gorgeous space is modern yet timeless all at once.
Rather than stopping in the hallway, the kitchen winds around the corner into an open kitchen with dining space. If you are looking to create a comfortable and practical space where your family can cook, eat, talk, and always be interconnected, this is a dream solution.
Getting Started with Small HDB Kitchen Designs
Ready to create the kitchen of your dreams? Talk to us! We are experts in bespoke small HDB kitchen redesign and can create your perfect space at any size and budget. Connect with one of our designers today for a no-obligation complimentary chat about your kitchen options. Message us online, chat via WhatsApp, or call 9179 5033.