Today's kitchen is more than a place for cooking, as homeowners spend more time in it than ever. It's safe to say that we eat and cook, catch up with our partner and children, and even practise our hobbies there. In some cases, you may even use it to work there, especially if you're good at multitasking. Of course, spending time in a room increases the chances of building up clutter. As a result, we become less efficient and more stressed in the space we treasure. Here's how a minimalist kitchen design can help you keep your cooking nook organised and neat.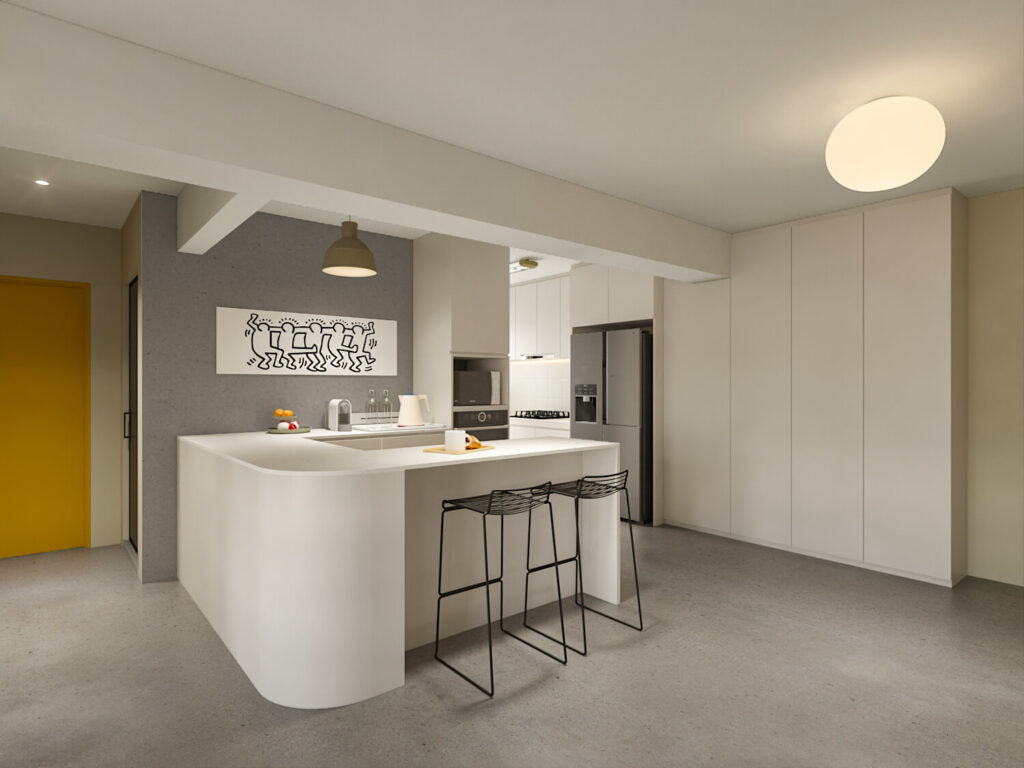 Undoubtedly, minimalism is more than a trend in HDB interior design. While it represents a different home style, it has also become a preferable option for small spaces. Here are the three key elements that make minimalist interior design so popular.
Streamlined Kitchen Design
Clean lines are the signature feature of every minimalist kitchen design. The lack of visible edges is always soothing and contributes to a calmer environment. Choosing slab-door instead of traditional shaker-style cabinetry is another way to create a smooth and sleek surface. Of course, you can always experiment with other panelled designs as long as they fit the overall theme. You can top up the minimalist kitchen design with a backsplash emphasising straight lines and simple shapes.
Space-saving Storage Solutions
A clutter-free space is the other face of minimalism in interior design. That's why removing unnecessary elements is the first step to achieving a serene yet functional kitchen. Keep your kitchen counters free of clutter and focus on appliances and kitchenware that nest. Also, don't forget to use various space-saving ideas like open shelves or a kitchen island with extra cabinets.
Subdued tones
Cleanliness and organisation aren't only what you see. It's a feeling that your kitchen must exude in every way possible. In this regard, you should embrace the minimalist colour palette. Typically, neutrals like grey and white are predominant, but you can also adopt beige with accents of wood and metal. Of course, you can choose a more modern look. Either way, the concept should remain – choose an accent colour and complement it with neutrals. Ultimately, the muted colours will achieve a serene and pleasing atmosphere.
Top 3 Minimalist Kitchen Design Styles
While minimalism embraces the idea of simplicity and clean lines, it comes in different variations. Of course, the primary concept remains the same, but there are a few ways to make your kitchen look more than a functional space. Here are three styles with features that can give your HDB kitchen design a unique look:
Modern Minimalist Kitchen Design
Minimalism in interior design often attaches itself to modern style. While simplicity remains in the limelight, a minimalist kitchen design benefits from streamlined and sleek surfaces. Still, the classic minimalist pared-down design can pack personality. Focus on organising your space and stripping down every detail. Some of the features may include hidden storage and clutter-free countertops. Pair everything with a neutral colour scheme.
As for the modern design elements, you can go for lacquered flat-front cabinetry. A waterfall island would immediately make a statement in an open-plan kitchen. Of course, eliminating details isn't a strict mantra so you can add wood accents and metal finishes. A great addition would be a marble countertop surface to contemplate the neutral colour scheme. However, it wouldn't be a bad idea to add pops of colour to maintain visual interest.
Minimalist Scandinavian Kitchen Design
While many find minimalism and Scandinavian interior design alike, the latter certainly has some unique features. Prime examples are the natural elements, warm textures and patterns. Still, the minimalist Scandinavian kitchen design is primarily about aesthetics and practicality. In this regard, it's safe to say that such a style is more about removing the clutter than embracing functionality.
Typically, you'd want plenty of space with pastel tones and natural shades to create the ultimate relaxing environment. Here, clean lines are still a thing, so don't forget the hidden storage. Of course, plants are mandatory, and you should use the window sill to bring in some small greenery.
Minimalist Luxury Kitchen Design
Many homeowners believe luxury interior design is about showcasing a lavish lifestyle. However, you will be surprised at how affordable such a style can get. Moreover, luxe minimalism is all about airy and spacious living spaces.
This HDB BTO kitchen design uses soothing, warm, and bright colours with streamlined edges and lots of functionality. Here, you'll find a few quality furniture pieces. Go for stargazing lighting and state-of-the-art details. This rule should apply to everything from your kitchen faucet and sink to the cabinet door knobs.
Embrace Minimalism with Kitchenate
Every HDB interior design challenges its homeowners with its limited space. Perhaps, that's why minimalism has become so popular in Singapore. In the past decade, more people have embraced the concept when remodelling their homes. In such cases, the "Less is more" mantra perfectly suits every modern kitchen design.
If you want to create your dream kitchen space, decluttering might be the best way to gain momentum. Kitchenate will help you find the golden balance between aesthetics and functionality. Our team of experts will dedicate their time to fulfilling your minimalist kitchen design vision while applying years of experience in the industry.
Check out our other articles: