Nowadays, HDB renovation in Singapore is done not only out of necessity but also for convenience. While it can dramatically improve your home's weary and neglected looks, it can also enhance its functionality. The kitchen is the place to expand when it comes to getting the best of both worlds.
As the backbone of every home, the kitchen interior design is one of the most demanding rooms in terms of creativity. After all, it's where we store, prepare, and cook food. But while it's primarily a functional area, the kitchen is still integral to the home's visual aesthetics. That's why we often divide it into two separate areas – the wet and dry kitchen. Perhaps, you, too, are looking to maximise your kitchen functionality. Read on to learn how to create a simple dry kitchen design with the best ideas for a wet area.
You can also find simple kitchen interior designs such as scandinavian kitchen designs and muji kitchen designs on our blog page.
Dry and wet kitchen difference
Like most people in Singapore, you probably haven't heard of the term "dry and wet kitchen design" often. But while it's not typical for the country, it comes from a place close to Singapore – Malaysia. Malaysians commercialised the wet and dry kitchen concept due to their heavy and greasy meals traditional for their culture.
Because of the pungent smells of most Malaysian food, they came up with a solution. But what's the difference between a wet and dry kitchen? Here's a simple explanation.
What is a damp kitchen design?
Put simply, the wet kitchen is where all the food preparation and cooking happens. It's the area reserved for greasy meals requiring better ventilation and deeper sinks. On the other hand, you may see tiled walls and floors, along with some countertops made from granite or other durable material.
What to keep in your wet kitchen design:
A rice cooker;
A stove;
Tap and sink;
Dinnerware and utensils;
Knives and chopping boards;
Pots and pans
What is a dry kitchen design?
Unlike the wet kitchen design, the dry area is more lightly equipped, hence the name. Usually, such a nook stores smaller appliances like toasters, microwave ovens and a space for simple tasks like cutting vegetables. Indeed, this place is ideal for a quick breakfast or snack while conversing with your family. Other unique features include decorative flooring, lighting and a dining set contrasting the utilitarian looks of the wet area.
What to keep in your dry kitchen design:
A toaster;
A coffee machine;
Fruit knives and a chopping board;
Serving plates;
Basic seasonings;
Best kitchen ideas to incorporate into your home
Dividing your kitchen into two separate areas will significantly improve its functionality. On the other hand, it will minimise the mess and give way to the aesthetic side of things. But how can you achieve a beautiful wet and dry kitchen design? Here are a few creative ideas to help you.
Wet kitchen designs
Airy and bright
As the name suggests, wet kitchens are the second place with the most moisture accumulation besides the bathroom. Therefore, the wet kitchen design is often vulnerable to air congestion from heavy smells and fumes while cooking.
In this regard, the first and most important task is to ensure the area has enough natural light and ventilation. That way, you'll prevent moisture from accumulating while making your space more inviting. Finish off with high-gloss floor-to-ceiling cabinets for extra storage, making your small wet and dry kitchen design appear spacious and less cluttered.
Another way to make your kitchen airy and bright is to go for open-concept kitchen interior designs. Do note that it may cost more as wall hacking is involved so make sure you plan your kitchen renovation costs wisely. This tip is also useful if you have a small kitchen. Check out this article for small kitchen interior designs.
Modern interior design
Utilitarian looks are often dull and uncreative. In other words, focusing too much on your kitchen's functionality may leave it without any aesthetic influence. Perhaps, you want to avoid going for a blindingly white wet kitchen design. In such cases, you can embrace a modern kitchen interior with a perfect balance between dark and bright. Don't forget to emphasise neutral wood tones and polished mirror finishes.
Bold choices
Of course, achieving the ideal HDB kitchen interior design may require some bold decisions. If you want to make a statement with your wet kitchen design, start from the wall. Make sure it's bold and blends with your kitchen hood and floor. Also, don't forget that your main goal here is minimum maintenance, so choosing suitable tiles is of utmost importance. If your space allows, adorn your windowsills with a small herb garden to enhance your wet area's appeal.
Dry kitchen design
Contrasting elements
Undoubtedly, mixing dark colours with timber is a combination many have already seen. Still, it's a timeless look that works in every HDB wet and dry kitchen design. You can adorn the combo with bold elements, like a bar counter with varying heights and hidden LED fixtures. The result will be a functional dry area where you can stand and prep food or sit and sip your favourite drink while dining. Ultimately, you'll amaze your guests with stylish elegance wrapped in practical furnishing.
Smart simplicity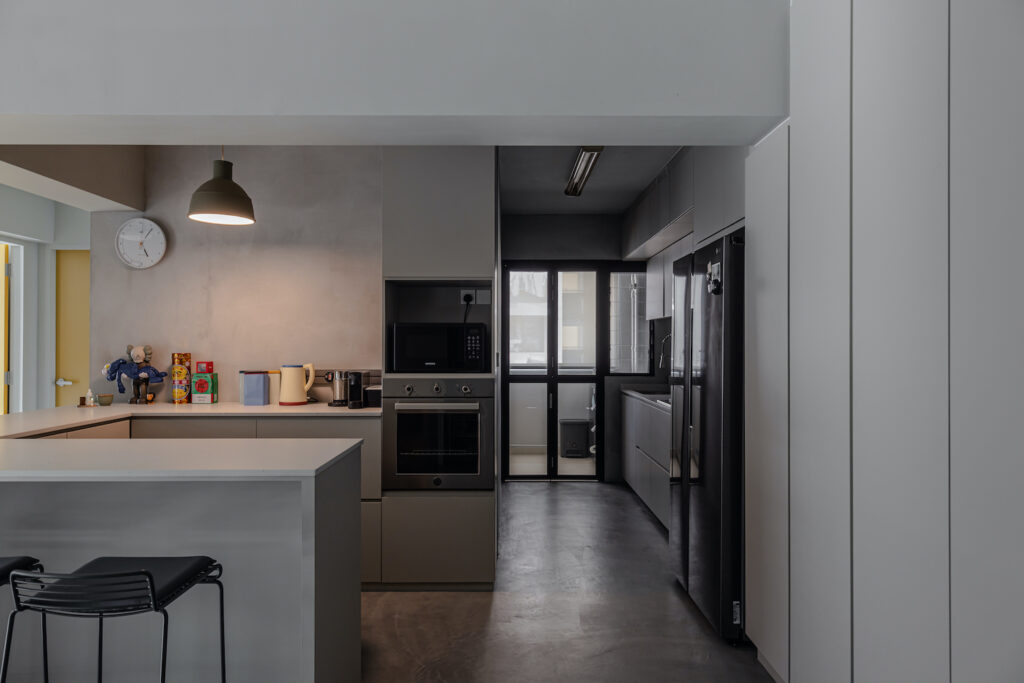 Simplicity or minimalist kitchen interior design is always welcomed in every functional home. However, overdoing it may make any dry kitchen design dull and useless. That's why you should carefully plan every tiny detail before integrating it into your dining area.
For example, you may want to hide the microwave in your kitchen cabinets. Also, you may want to make use of your kettle and toaster. To make everything work seamlessly, install a power extension track for extra comfort.
A splash of colour
To some, a kitchen should not focus on design but be straight to the point. To others, it's all about blending a lively colour palette with the rest of the room. Of course, you wouldn't want to go overboard, but adding a splash of colour won't hurt anyone. To make everything work together, pick two primary colours – pastel hues or other non-intrusive shades. Creating standout elements will tie with your kitchen cabinets and countertops in harmonious existence.
Create the ultimate wet and dry kitchen HDB interior with Kitchenate
Planning your kitchen interior design is of utmost importance for keeping utility and convenience on point. If you're looking for a small space wet and dry kitchen design, Kitchenate will assist you to make the most of your room. The team of experts has extensive experience in organising HDB kitchen designs and BTO kitchen designs in various styles and layouts. Get in touch with us to start your dry and wet kitchen design right away!