When it comes to functionality, kitchens have the most diverse utility of all rooms at home. After all, the kitchen is where we prepare food, cook, dine and socialise after a day at work. That's why remodelling a kitchen is probably the most challenging task in an HDB renovation. Luckily, embracing a simple kitchen design can be a lot more rewarding than you've ever thought.
In Singapore, most HDB kitchens are confined spaces that offer limited possibilities to homeowners. Moreover, covering all the disadvantages of restricted space often costs a small fortune. Still, spending less won't make or break your dream kitchen, especially if you come well-prepared.
What Are The 6 Essential Ideas to Follow in Kitchen Design?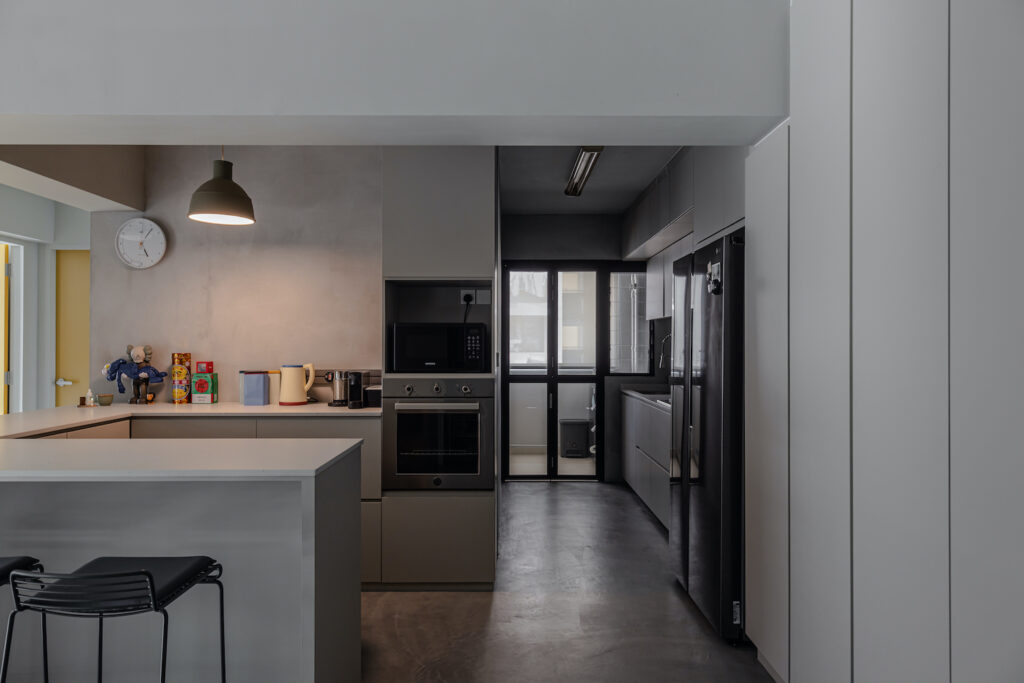 Whether you're short on budget or want to make the most for your bucks, following a few clever steps will do wonders. In this regard, we've ensured we give you the essentials that will help you pair simplicity with functionality. Here are the best six simple kitchen design ideas that will transform your small kitchen.
Follow the "Kitchen Triangle" Principle
Since the kitchen is primarily about function, building around what's most used is a clever solution. Typically, those items are the sink, stove and refrigerator, also known as the "kitchen triangle".
Positioning them in close reach to each other is a clever move that will facilitate the creation of an easy, simple kitchen design. After all, all you need is to plan your layout carefully. Ultimately, you'll quickly move between all three areas when cooking and preparing food without limiting your space.
Consider a Kitchen Island Area
Lack of proper counter space is one of the biggest issues when looking for small kitchen design ideas. Luckily, the kitchen island is a quick and efficient solution that works brilliantly when used with thought.
In most cases, it can become a breakfast bar or a fully-fledged cooking area. That way, it can provide both kitchen storage and extra counter space. However, you should carefully determine the walking distance so it doesn't become counterproductive.
Get Creative with the Storage
While a kitchen island can be a decent solution to the lack of counter and storage space, being creative shouldn't stop there. Storage is a crucial metric for a kitchen's functionality, and one should not compromise it.
If you want a simple small kitchen design that can hold up over time, investing in different kinds of drawers is an excellent idea. Using vertical storage can be a game-changer if your cooking area is small. Of course, the small organisational features like utensil holders and drawer dividers will also make a difference. Finally, don't forget to use appliance-specific cabinets wherever possible. That way, you'll minimise the clutter.
Don't Forget the Backsplash
The backsplash is a small but crucial element of every simple kitchen design. Depending on the HDB interior design, you can choose different materials, patterns and colour palettes. Still, most homeowners and designers prefer clean-white tiles or marble.
You can always experiment with different tile models and shades if you want to bring some pop to your kitchen. Typically, the backsplash is affordable, but if it takes a large chunk of your budget, you can always leave it for later. However, remember that it's like the icing on the cake that nobody wants to miss.
Layer Lighting
The kitchen is where the play of lights doesn't only serve an aesthetical purpose. In this case, illumination also has a functional purpose, so you must ensure enough. Whether you choose industrial-style lighting or luxe pendants, layering should achieve a specific goal. In most cases, you'd want to illuminate the areas where you prepare food or cook. Some decent examples are LED strip lights, but you can always use flush-round models.
Position Your Trashcan Carefully
The kitchen trashcan is the item that most homeowners and designers neglect. But no matter how unobscure it is, it can make or break your cooking space. In this regard, the best you can do is create built-in storage. Moreover, you can use two – one for recycling and the other for thrash. After all, there are plenty of aftermarket options in retail stores. It's up to you to make them work seamlessly in your simple small kitchen design.
Simple Small Kitchen Design with Kitchenate
A simple kitchen design is a dream many homeowners chase, but only a few can achieve. While most associate it with low-budget efforts, it's instead a mix of simplicity, functionality and aesthetics. When dealing with a small kitchen, mixing too many colours or bringing too many items can clutter your space.
That's why calling professionals to assist you will save you many headaches. When it comes to HDB BTO kitchen designs, Kitchenate has some of the best small kitchen design ideas. Our team of experts can help you achieve much-needed kitchen efficiency and comfort, all within your budget. Get in touch with us and start your dream kitchen design right away!
Check out our other articles: