Designing the ultimate HDB kitchen requires a lot of creativity and planning. It involves various aspects of your cooking and dining area, from the water supply to the ventilation and lighting. However, staying updated with the latest interior design tips and trends takes more than that. To create a modern kitchen design, you must view it in terms of storage space and a practical layout with sufficient countertops. Moreover, you must find the perfect place for every detail, all within your renovation budget.
Take a look at other kitchen design ideas such as Scandinavian kitchen interior design and Muji kitchen interior design in our blog page.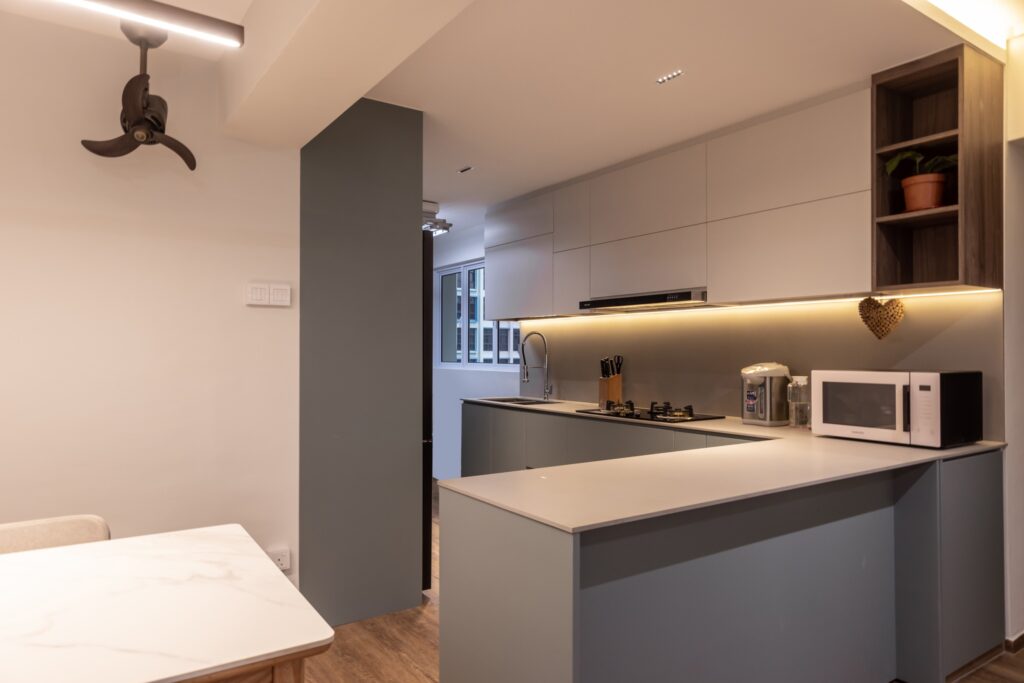 What Are The 8 Best Modern Kitchen Design Ideas?
Of course, everything is achievable with some help from an expert designer. Still, getting some fresh modern kitchen ideas will give you a perspective of what looks good and works well. That way, you'll add a personal touch to your cooking area while making a statement. In this regard, it's crucial to gather insights before you make your investment. Here are some clever tips to follow when creating the ultimate modern kitchen design.
Clear the clutter
Nowadays, open-plan kitchens are a popular solution for small HDB flats. However, homeowners often ruin the concept by bringing in too many objects. The objects may include walls, unsuitable chairs, or a flawed kitchen layout. Whatever the case, a proper modern kitchen design would opt for a clean and unobstructed floor plan.
Luckily, you can quickly solve the issue by getting rid of the unnecessary clutter. Remove anything that may separate your kitchen from the rest of your home. An excellent start would be removing the wall between your kitchen and dining area. Of course, you must follow the HDB renovation guidelines. The idea can extend to revisiting your modern kitchen cabinet design in the form of a kitchen island but without cabinetry above it. That way, you'll allow the view in and out of the kitchen.
Use the vertical space
While "clearing the path" is of utmost importance, putting your vertical space to good use is also crucial. Of course, open-concept kitchens revolve around the idea of having ample space. However, dealing with limited room opts for a creative solution, and you'll also want to think about vertical cabinetry. That way, you'll not only create extra storage options for your kitchenware, but you'll also avoid cluttering your kitchen. Ultimately, your small house's modern kitchen design will feel much larger and fuller. For more small kitchen interior design ideas, check out our blog page.
Create dedicated zones
Every kitchen has its dedicated areas, regardless of the layout. That's why it's up to you to make everything work cohesively. In most cases, the floor plan is split between cleaning, cooking, prepping and dining. But with the rise of open kitchens, this space has become more of a social hub.
Indeed, creating a kitchen island where guests can sit across the hob is the best way to socialise while cooking. Moreover, you'll show off your modern kitchen sink design. Whatever the case, carefully choosing a central point will help your kitchen flow more seamlessly and without obstacles.
Blend your modern kitchen design
Surprisingly, many homeowners overlook this tip when planning their modern kitchen design. Since the open kitchen is usually visible from multiple rooms, it's a clever idea to make it blend with the rest of your home. After all, adding some matching or complimenting elements that will go with the overall HDB interior design takes zero effort.
Of course, the ultimate goal is to blend your modern kitchen design with the rest of your home without compromising its uniqueness. In other words, you can match colours, textures, and flooring, but you should focus on preserving its unique looks.
Materials always matter
As noted, materials matter, especially in a modern kitchen design. In this regard, you should pay special attention to them, as they will help your HDB kitchen interior design look modern. The most common choices here have to be natural and dark woods, followed by marble and granite. Typically, such materials exude a timeless look originating from the 70s.
If you're looking for a more chic or industrial look, you can bring in some gold, brass, and stainless steel elements. They will make a great addition to your cabinet drawer knobs and kitchen appliances. Depending on your preferences, you'll get closer to luxe, warehouse or rustic aesthetics.
Focus on built-in appliances
Following the no-clutter narrative, ensuring you don't have excess appliances lying around in the kitchen is crucial. Also, focus on bringing kitchen devices that align with your modern kitchen design. An excellent idea to help you achieve it is to buy built-in appliances to create a flush look.
For example, you could build the dishwasher within your kitchen island. While that will save space, you will fulfil your modern kitchen sink design. Another idea is to blend in your microwaves, refrigerators and other appliances by surrounding them with cabinetry. Ultimately, you'll achieve a sleek, clean and modern floorplan.
Don't forget the seating
Finally, don't forget about your comfort. While it's often overlooked, the seating can significantly influence your kitchen experience. Whether you're going after a modern kitchen design or a more contemporary look, comfortable seats are a must. Meanwhile, you wouldn't want to disrupt the kitchen plan, so you should match your seating with your dining area.
In other words, a large kitchen bar would work best with a waterfall countertop or a breakfast nook. Combine either with tall bar stools to make the most of the countertop space while benefitting from easily utilisable chairs. Of course, you wouldn't want just bar stools, but some statement and comfortable pieces. That way, you'll have the perfect solution for your modern simple kitchen design.
Create the Ultimate Modern Kitchen Design with Kitchenate
Building a timeless HDB interior design isn't always as easy as it seems. In most cases, the limited space and the lack of experience force homeowners to stick to the standard and often dull ideas. Thanks to the experts at Kitchenate, owners can find a creative solution for their modern interior design. The team of skilled designers specialises in HDB and Condo remodelling with a highlight on kitchens. Get in touch with us to start your dream project right away!
FAQ about Modern Kitchen Designs
Is contemporary and modern interior design the same thing?
No, they're not the same thing. However, many homeowners do not differentiate between the two, which is often confusing. The classic modern design emerges from a 20th-century style with strict patterns and set elements. On the other hand, contemporary design is shaped entirely by current trends.
What should I include in a modern kitchen design?
Usually, a modern kitchen design includes sleek cabinetry with appliances that have an elegant and flush appearance. Beautiful countertop materials like marble, granite or quartz complement the streamlined concept while providing easy maintenance.
Check out our other articles: